Industrial Robot Systems for removal of coatings and paints with RPR Technologies or UHP jetting.
Oftec is a global leader in the market of Robotic Industrial Crawlers.
The Oftec Crawlers are remote controlled and contributes to a safe and efficient surface preparation process, along with Oftec Filtering Systems. The magnet crawler robot systems are used for removal of paint and various coatings on metal surfaces. The portable remote control unit allows the operator to work from a safe distance. The highly efficient separation and recycling process of abrasives and liquid by Oftec Filter technology contributes to residual waste reduction and machine downtimes.
Typical areas of applications are:
Oftec Robotic System Components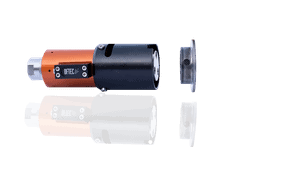 How does it work
The Magnet Crawler. This is a carrier vehicle made of lightweight aluminium. The carrier has two drive units. By means of strong magnets the Crawler is held to the steel surface. Those magnets are encapsulated in sea water resistant stainless steel. The extreme adhesive forces easily resist the severe pushback forces of ultra high pressure jetting. (up to 3.000bar). Held by strong magnetic forces the robot system can work in all directions including inside in pipelines and tubes. The electric drives enable infinitely variable speeds, and are operated through the portable remote control unit. (Pneumatic drives are available as a option)
Modular Suction System. The optional Oftec Filtering and Separation System will collect all waste water and removed material, and recycles the water, separated from the solid waste. This system consists of several modules, and is available in four different types. The Suction System is designed to suck wet stand, blasting material, slurry and water. There are both pneumatic and electric version available with various outputs. The Silo is a double flap silo that empties automatically, enabling continuous suction. The collected waste water is disposed into a container. By means of a membrane pump it can be further conveyed. Collected wet sand, blasting material and slurry can be disposed in a Big Bag Holder. Collected contaminated air along with the medium is cleaned by means of a Jetlifter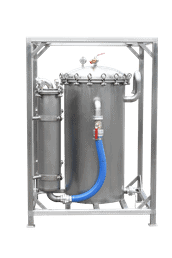 Advantages
No more Scaffolding. Using an Oftec Magnet Crawler makes scaffolding redundant. No construction costs,  no logistic burden, no interrupted  surface treatment.
No more Work Interruptions. The remote controlled Crawler works continuously and without any interruption. Processing speed can easily be 5 times higher than operating a handheld tool. 
Additional Applications. The Oftec Crawler Robots can also be used for applications like cutting, blasting or camera inspection. 
Increased Safety. The operator works with remote control unit, and is positioned at safe observation distance from the object.